Teen Department
Summer 2014 Programs
All Teen Summer Programs are for ages 12 to 19. You can register online by clicking on the time for each program below or by visiting the library. Programs fill fast, so register early. For more information, call the library at 270-826-3712.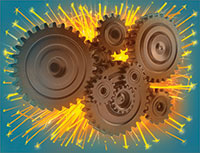 Spark a Reaction Summer Reading Club
Summer Reading Club is so easy and fun! All you have to do is read!!
For teens entering grades 6 through 12, read at least 3 books and write the titles of the books in your reading log.
Bring your completed reading log to the library and get a prize. Prizes will be awarded to every teen who completes their log.
Harry Potter Potions Class
Magic and science collide as we create potions that would amaze Professor Snape and Bill Nye the Science Guy!
Mythbusters
Using logic and hands on experiments we'll discover which myths are plausible and which are just plain busted!
Art of Science
Join us for an afternoon outside filled with explosive art fun!
Winter in July
Do you wanna build a snowman? Good, cause we do too! Create snow and slush that won't melt…even in the summer heat!
Science Spa
Make your own soap…after first blowing some up!
Candy Chemistry
Learn the science of sweets as we create our own ice cream and pop rocks!
Playing with Plastic
Did you know you can make your own rubber bouncy balls out of glue and even turn milk into plastic!?!